Kaboodle - Installing oversized heavy appliances - How do we do it?
Divertimenti Cookery School, Miele and Kaboodle! – 'The perfect recipe for a hassle free appliance installation!' How does a 'Which?' Best appliance brand 2015, 2016, 2017 and a 'Food Awards London 2017' Cookery School finalist decide on their appliance delivery and installation service? They use their noodle and choose Kaboodle of course!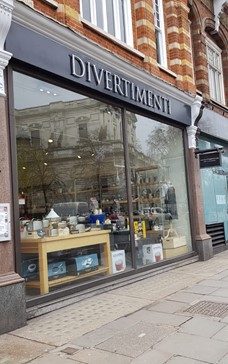 There was no better place to showcase the launch of Miele's first ever range cooker collection than the famous Divertimenti Cookery School on London's Brompton Road, Chelsea. The Divertimenti cookery school is the place to learn about the culinary arts. Divertimenti carefully select the finest equipment, cookware, and electricals to use in the school, all of which is used by the class teachers, including multi starred Michelin chefs, and students alike giving you a real hands on experience of the Miele range of cooking products.
With over 11 years experience and a strong culture of continuous service improvement, Kaboodle were delighted to take on this specialist installation project. The engineers made light work of installing the 200kg product using our air cushion technology lifting forks to easily glide the product into place with no heavy lifting and no risk of damage to product or property. (Click here to watch the short video clip).
The Miele HR1936 shown in this clip is the smaller of the two offerings, at 92cm wide. Instead of the different compartments has a capacious 150-litre oven with specialist settings that include auto roasting and a bake program, as well as four different grill options. It also has five gas burners on the hob.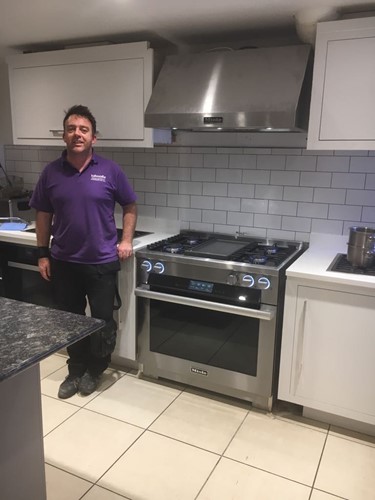 The larger, 122cm-wide, Miele HR1956 includes a generous 85-litre oven (complete with a rotisserie motor), 43-litre combi-microwave oven and gourmet warming drawer – for proving dough or keeping plates nice and warm for serving. The hob has seven gas burners, including a griddle and wok ring.
Both of the range cookers have whizzy touch controls, countdown timers, pyrolytic cleaning and a sci-fi-sounding 'wireless food probe,' which monitors the core temperature of your dish.
For more information on Kaboodle's premium white goods installation service click here
To find out more about Miele's new range cooker collection click here
https://www.miele.co.uk/domestic/ranges-5146.htm
To learn about classes available at the Divertimenti Cookery School click here